Price: $15.00/mon or $150.00/year
Want your own Guild/Clan website that you can manage anywhere with internet access? We guarantee that your Guild/Clan website will run fasters, and stay up longer on our Guild/clan web hosting plan.
Our Guild/Clan plan comes with free installation of EQDKP plus (more info) or any Content management system you may prefer. Not only will you be getting unsurpassed web hosting we will provide unlimited advanced support for your Guild or Clan system as well. (excluding web design request a quote if you require design services) So what exactly is "advanced support"? This is the kind of support most hosting companies will charge per hour for services like: Modules installs, system updates, Security patchs, and much more!
Web Hosting Features…
– Unlimited Disk Space and Bandwidth
– Flexible, Easy to Use Control Panel
– Unlimited Sub Domains, FTP Accounts, and Email Accounts
– 99.9% Uptime Guarantee
– Guaranteed better performance!
Free With Guild/Clan Web Hosting Plan…
– Zen-cart/oscommerce/cubecart installation + support (more info)
– Setup and support of any open source or paid ecommerce system!
– Free SiteBuilder and SiteStudio Website Building Tools
– Free Website Transfer, Domain Transfer, MySQL Transfer, Script Transfer
– 52 Free scripts can be instantly installed on your account with a few clicks
Control Panel Features…
– Latest cPanel Control Panel
– Website Statistics: AWStats, Webalizer, Raw Log Manager, Referrer and Error Logs
– Fantastico: Instant Shopping Carts, Blogs, Portals, Forums, Counters, Formmail
– Password Protected Directories and Custom Error Pages
– Web Based File Manager, Hotlink Protection, IP Deny Manager, Redirect URL
Programming and Database Features…
– Unlimited MySQL Databases with phpMyAdmin Access
– Programming Language: CGI, Fast CGI, PHP 5, Ruby on Rails, Perl, Python, SSI
– Programming Modules: Curl, CPAN, GD Library, ImageMagick
– System Management: SSH Access and Cron Job Scheduling
– FrontPage Extensions
– Unlimited POP3 Email Accounts with SMTP
– WebMail Access: Horde, SquirrelMail, RoundCube
– Receive your email to your phone via IMAP Support
– Prevent spam with SpamAssassin
– Unlimited Autoresponders, Mail Forwards, Email Aliases, Mailing Lists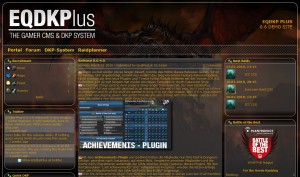 EQdkp-Plus is a PHP/Mysql Open Source website KIT, content management and DKP-system for online roleplaying games like World of Warcraft or Lord of the Rings online.
Features:
Extensive raidplaner
A portal system for a simple setup of your guild's homepage
More than 20 modules for usage in your guild's portal
A bridge connection to the most current board systems like phpbb3, vbulletin, SMF, wbb and e107
Integration of your board to the portal
Simple Installation
Itemstats – Itemtooltip for WoW, Lotro and Runes of Magic
Handle the DKP system of your guild or group with ease
every kind of DKP system possible(Zero Sum, Fixed Price etc.)
Bossuite to present the achievments of your guild
Complete english translation
GetDKP – WoW Addon to display the DKP ingame
14 different templates
Plugins:
Bossuite
Charmanager – users may manage their own characters
CT Raidtracker Import – to import WoW raid strings
Image Gallery
Infopages – Create own content
Item Specials – WoW set and special items
Newsletter Manager
Raid Banker
Raid-Log-Import – to import WoW raid strings
RaidPlan
Shoutbox
Ticket System
Guild Request – simplify guild applications
Portal Modules: (Blocks to display in the portal)
Bossguides
Custom Content
Module to show latest items, raids and posts of your board
Rankimage such as wowjitsu or bosskiller
Teamspeak Viewer
Ventrilo Viewer
Recruitment
Shoutbox
and many more